We specialize in taking care of the people with chronic somatic diseases.
We try to offer the best service.
We provide a 24-hour professional care as well as individual and group forms of occupational therapy and relaxation. Therapeutic-care programme meets every resident's individual needs, abilities and skills.
Our residents can participate in various forms of art, music or embroidery activities. Our garden is the place where everyone can rest, meet other people and take part in various activities. We regularly organize visits to other nursing homes as well as trips abroad.
We offer single rooms, double rooms and three-person rooms. It is also possible to take advantage of the library, the internet cafe and other facilities for everyday use.
Kalina Nursing Home meets European standards in respect to living standards and managing ones.
Disabled friendly facilities, well-qualified staff and high quality equipment are the chief assets of our Home.
We also provide our residents with cars and minibuses, so disabled people on wheelchairs can take advantage of them and take an active part in the Home's life.
The central idea of our institution is the attention to the right to dignity, freedom, privacy of people who stay in our Home. We do the utmost to create the atmosphere of partnership and friendship.
We are proud of living in a picturesque region that guarantees clean air and beautiful landscapes.
The Nursing Home is also supported by the Association of its friends. Thanks to such help we manage to achieve our goals
"Kalina" is an ideal place to live, relax and recover after years of professional life hardship.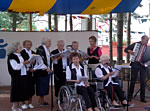 Group "KALINA"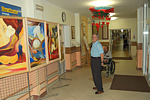 Our hall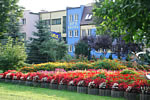 Kalina's park