The Home is located on the outskirts of the town with 70 000 inhabitants, close to a communication route. There is also a bus stop, which makes getting to the centre more convenient.
The Home is surrounded by a well-maintained park. Old trees prevent the noise of the streets disturbing the peace and quiet.
Beautiful alleys, lawn, benches, garden houses and plants encourage people to take walks and relax in the open air.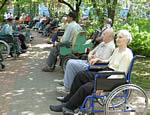 Relaxation in the park